12 Tides is a Certified B Corporation.

Here's Why.
When we founded 12 Tides, we didn't just want to create a healthy snack; we wanted to make a difference. More specifically, we wanted to better the relationship between people and the ocean. And as of September 24, 2020, we're proud to announce our acceptance as a certified B Corporation. 
While this is great news for us as a business, you might be wondering…
What exactly does becoming a Certified B Corporation mean?
What's the big deal about becoming one?
And most importantly, how will it impact the planet?
We're happy you asked. Read on to learn more about B Corporations and our mission as one.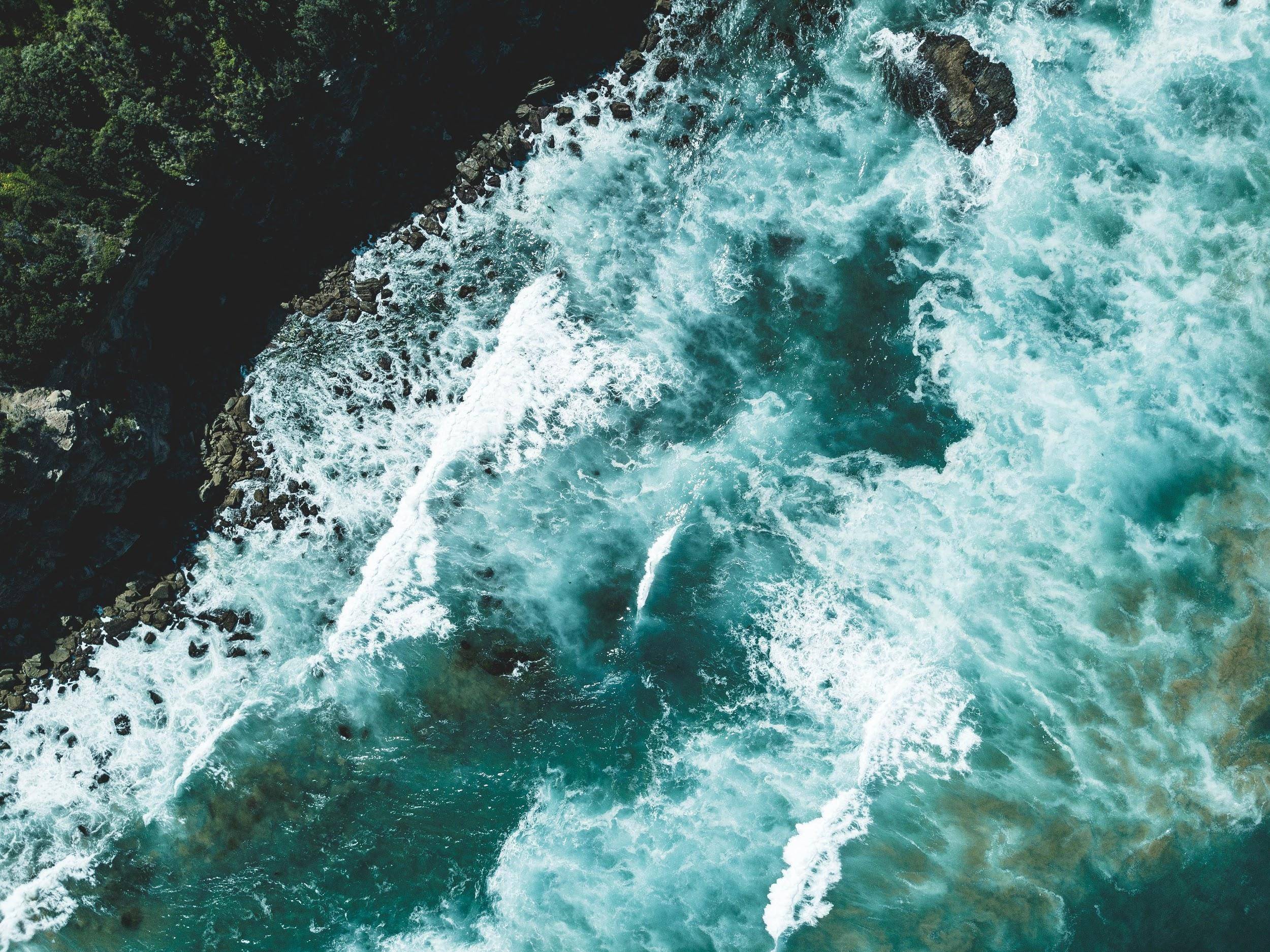 What is a B Corp?
Certified B Corporations, commonly referred to as simply B Corps for short, are businesses that have met rigorous standards of social and environmental performance, accountability and transparency. 
In order to certify as a B Corp, businesses must undergo an interview process by an independent third party. This process is called a B Impact Assessment and includes reviews on how decisions made within the company impact both people and the planet. The process is extensive and a bit daunting, but we believe it's worth it.
After completion, businesses are then scored to determine if their company meets the 80-point bar for certification. At 12 Tides, we scored 114.3.
This commitment to being a better, more conscious business isn't just lip service, either. Like every other B Corp business, our certification doesn't just show where our business excels now, but it also holds us accountable for the future. In fact, our commitment is legally written into our business' Articles of Incorporation. 
In short, B Corps are a force for good, and we're very proud to have joined the ranks.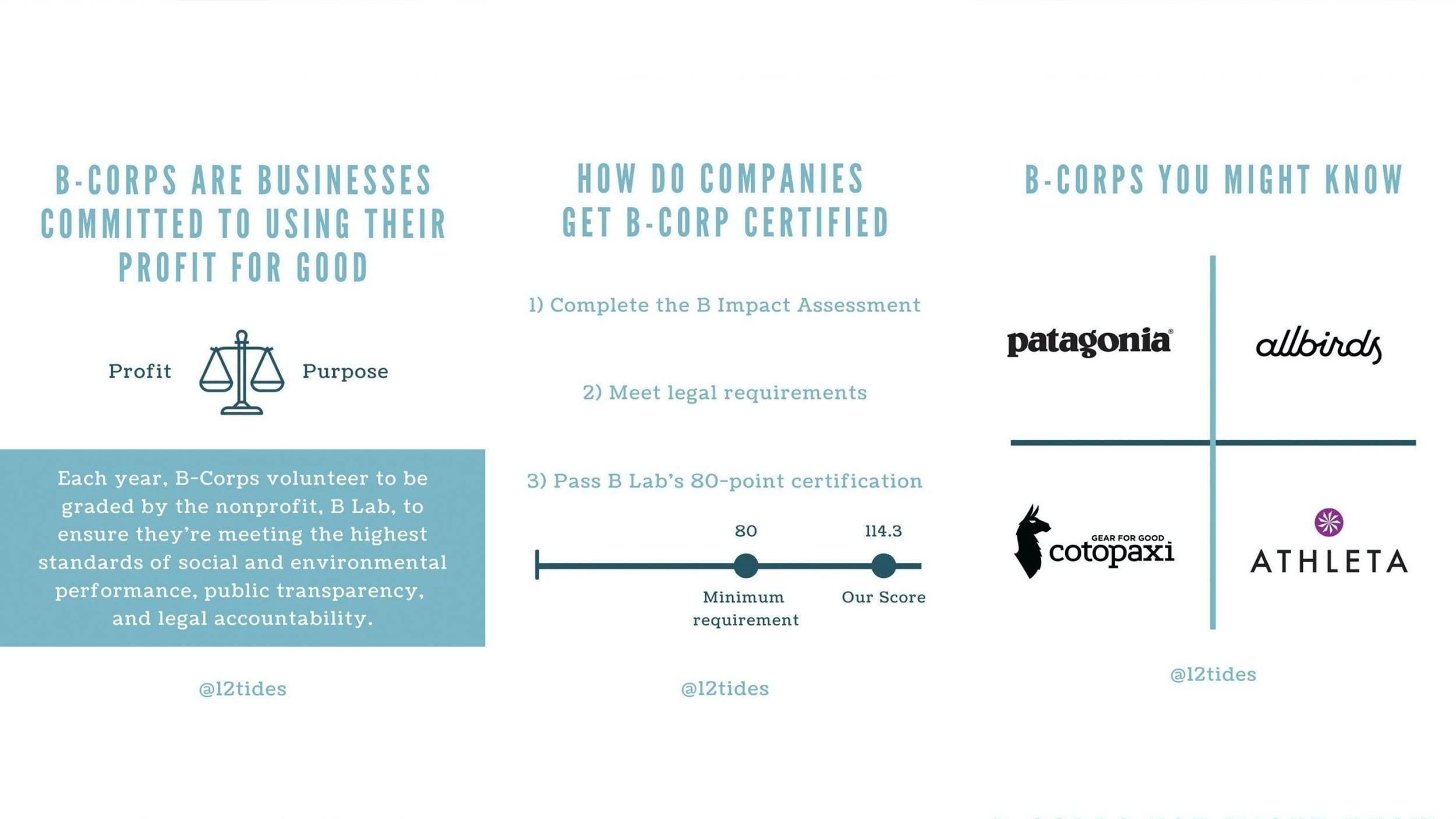 Why did 12 Tides Become a B Corp?
Supporting regenerative ocean farms, responsibly sourcing ingredients,using compostable packaging—it's all part of how we operate and an essential part of our business mindset.
There are many reasons we wanted to become a certified B Corp, but here are the three most important.
 Our certification:
Creates Community Involvement 
B Corporations form a community of compassionate and visionary leaders and activists. By certifying as one ourselves, we joined a community of brands striving to drive positive change and advance the conversation on corporate social responsibility. We're passionate about sustainability and reversing climate change, and we're in good company here.
Measures Our Progress
We believe our food should be made in a way that's sustainable for the environment that produces it. The assessment alone has allowed us to reflect on our progress to do good things for the ocean and the planet. We've already learned what we're doing right and what areas we can improve as we look toward the future. 
For example, we've played a role in restoring 318.1square feet of kelp forests so far. But we're already asking ourselves, how can we do better? How can we do more?
Creates Accountability
Certifying as a B Corp isn't a one-and-done deal. In order to maintain certification, we have to update our assessment every three years with supporting documentation and achieve a new score above the certification bar. The only way to successfully do this? To push ourselves, to think outside the box, to do bigger and better things in the future. It's a challenge we gladly accept.
To You, Our Customer
At 12 Tides, it's probably clear by now that we're proud to be a B Corp. But you might be wondering what this means for you as a customer. All of this means nothing if our community isn't satisfied, too. 
If you're like us, perhaps you want your products to come from companies that have bigger goals than just making money. Companies that are striving to minimize their negative environmental impact while increasing their positive social impact. Companies that are honest, transparent, and provide excellent customer service. Companies that are continually evolving for the better.
 At 12 Tides, this is our commitment to you, our customer.
 Our inbox is always open, and we invite you to be part of the conversation. We look forward to creating a better tomorrow, together, for those around us and for the planet we're so grateful to call home.